Introduction
High-performance gaming laptops are no longer the preserve of die-hard PC enthusiasts. Whereas said machines were once big, bulky and at times ostentatious affairs, today's gaming laptops take a more refined approach while maintaining the requisite level of performance.
A good example of this evolution is Gigabyte's latest 17.3in powerhouse, the P57W. Back in the day, any laptop described as a powerhouse would be visualised as thick, chunky and downright ugly, but the P57W is anything but. Gigabyte's new machine measures a reasonable 24.9mm at its thickest point, it tips the scales at a hair under 3kg, and it has a finish that's equally well suited to a LAN party or an office meeting.

Granted, the orange trim along the edges won't be everyone's cup of tea, however it's a minor point on an otherwise clean design, and while we might have preferred silver highlights, gamers may appreciate the hint of flair. On the whole, the understated aesthetic works well, but while the laptop is suitably slim, portability isn't its forte. The near-3kg weight doesn't lend itself to frequent travel, and the 421mm width means you'll need a well-sized bag.
Build quality is decent throughout, with Gigabyte employing good-quality plastics, though there is a difference between the main body and the lid. The former is quite sturdy, with only a hint of flex in the keyboard tray, but the thin top bends a little too easily. The display hinges however offer the right amount of tension, and while the P57W doesn't offer Ultrabook levels of sophistication, it looks and feels tidy.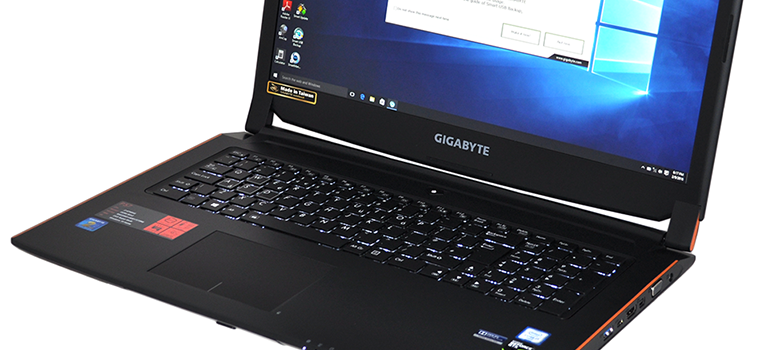 Opening the laptop reveals the ofttimes forgotten benefit of a 17.3in machine - a wonderfully spacious workspace that makes for an effective desktop replacement. It looks roomy and inviting, and the keyboard and trackpad seem familiar. That's because both are carried over from the recently reviewed
P35X
. The backlit keyboard, with anti-ghosting technology and integrated numpad, continues to exhibit a bit of flex and doesn't offer a great amount of key travel, but it's comfortable enough, well illuminated, and suited to both gaming and productivity.
The P57W trackpad is similarly expansive and responds well to multi-touch gestures, however it's a shame Gigabyte continues to adorn its laptops with unwanted stickers. We really don't need the specification to be on show at all times, and the 'two-year warranty' and 'made in Taiwan' badges in no way heighten the laptop's appeal. Of course, the laptop is sold in many countries, particularly in the Far East, where this kind of sticker fascination is expected.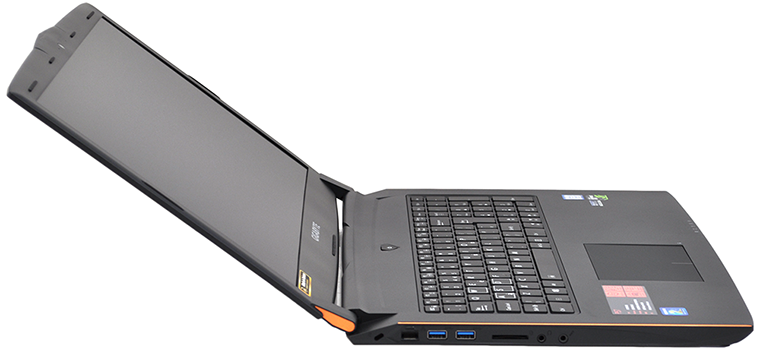 High levels of polish aren't typically Gigabyte's speciality, but the manufacturer sure knows how to put together a specification sheet. On the outside, the P57W provides a trio of USB 3.0, USB 3.1 Type-C, HDMI 2.0, VGA, mini-DisplayPort, audio jacks, an SD card reader, Wireless AC and a connector for the bundled 180W power supply.
Forward-facing stereo speakers provide plenty of volume and acceptable clarity, and there's also a DVD writer accessible from the laptop's front edge. Should you prefer, the optical tray can be substituted for a storage device, and Gigabyte bundles the required converter.
There's plenty happening on the inside, too. The CPU is a high-end Intel Core i7-6700HQ with integrated HD 530 graphics. There's 16GB (2x8GB) of DDR4-2133 memory, and when the going gets tough, a dedicated GeForce GTX 970M GPU will kick in for added oomph. Gigabyte has all this channelled toward a 17.3in 1080p IPS display with wide viewing angles and an anti-glare coating that helps minimise reflections. It's a good panel, there's no doubt about that, yet we're surprised to find that an ultra-high-res option isn't yet available.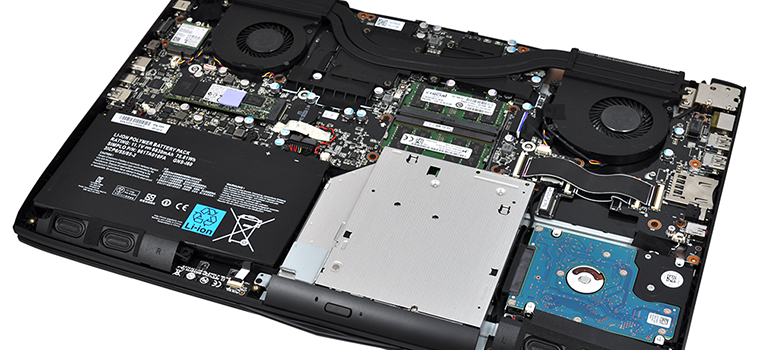 The P57W is high-end in certain areas but it doesn't necessarily push the boat out. Storage, for example, is provided by a 256GB LiteOn M.2 SSD and a 1TB hard disk. Not a bad combo by any means, but it's fairly basic by today's premium gaming laptop standards. Gigabyte's decision not to win every benchmark does bode well for the price tag, mind, which sits at a competitive £1,350.
Gigabyte has ticked a lot of the right boxes, yet there are recurring niggles regarding tidiness. The stickers on the palm rest are one, and the needless number of icons on the Windows 10 desktop are another. The software configuration isn't as clean as we'd like on a premium machine, and some of the pre-loaded utilities simply fail to function after updating to the latest version of Windows, resulting in errors on boot. The final question-mark is the optical drive, and more specifically whether or not it should be dropped in favour of a much larger battery? Answers in the comments section, please.
Benchmarks: CPU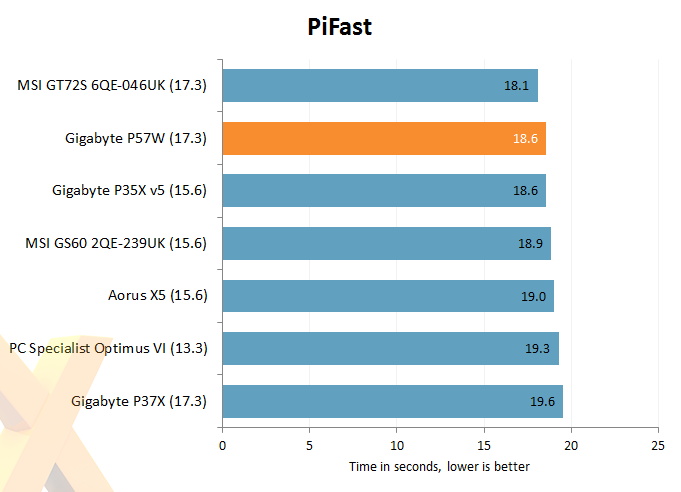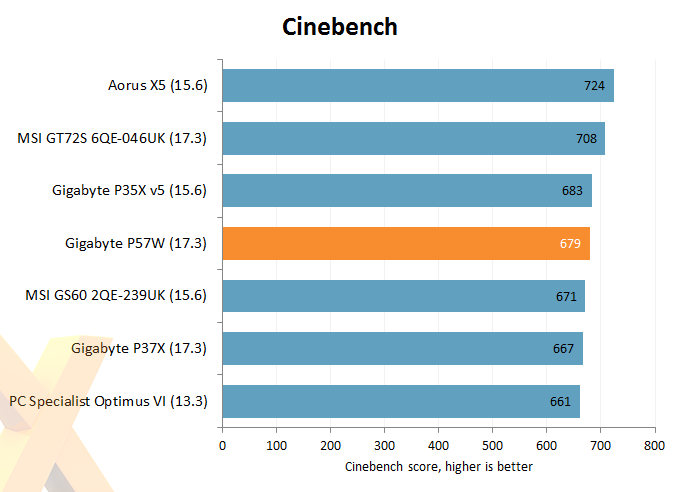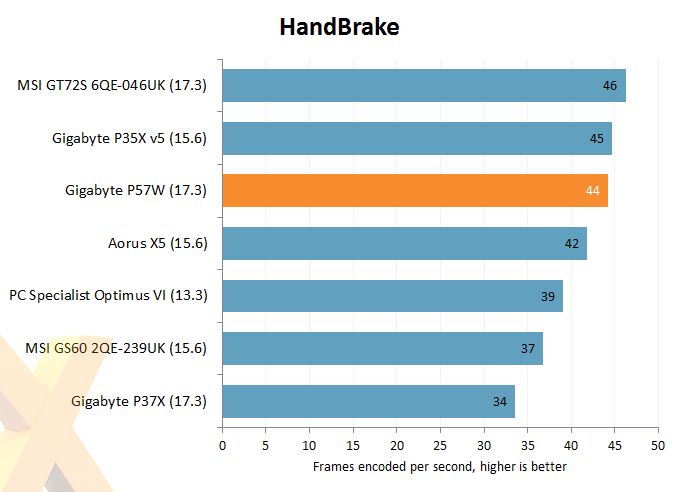 £1,350 is a fair ol' chunk of change, yet at this price point Gigabyte's P57W is one of the most affordable laptops in our line-up. As far as the CPU is concerned, a lower cost needn't mean less performance - the quad-core, latest-generation i7-6700HQ is about as quick as they come.
Benchmarks: Memory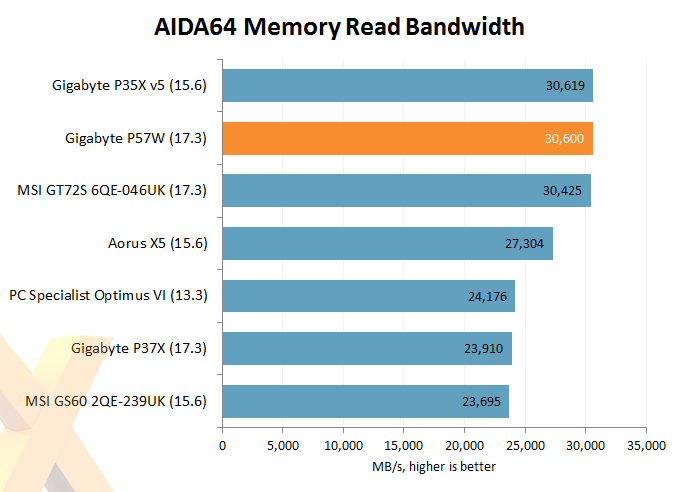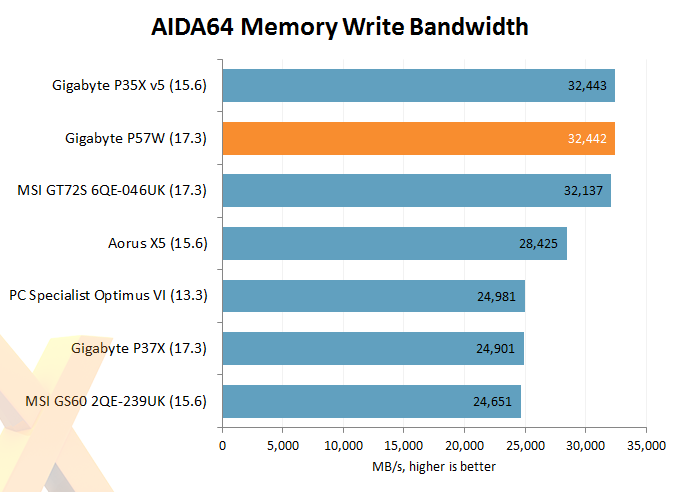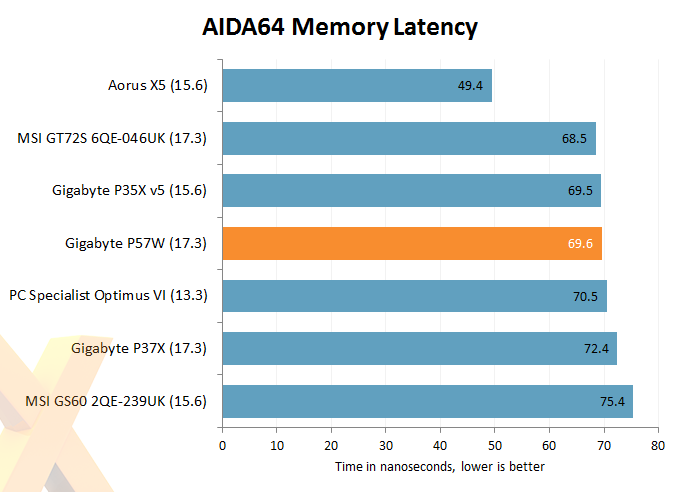 CPU performance is excellent and Gigabyte hasn't skimped on memory, either. 16GB of DDR4 is a very healthy dollop, and the 2,133MHz speed delivers heaps of bandwidth.
Benchmarks: Storage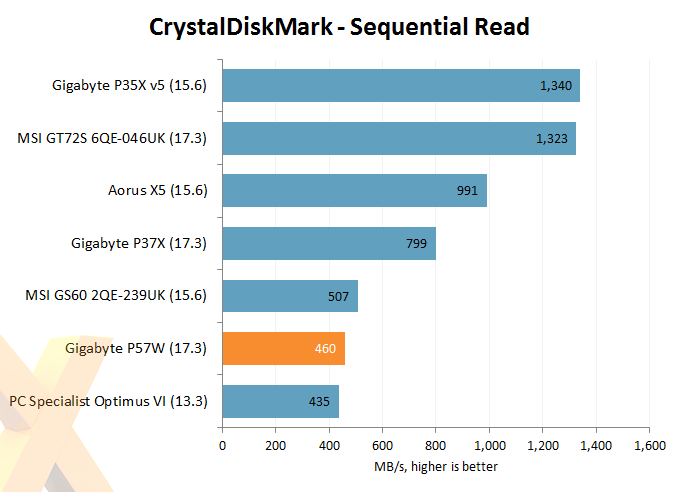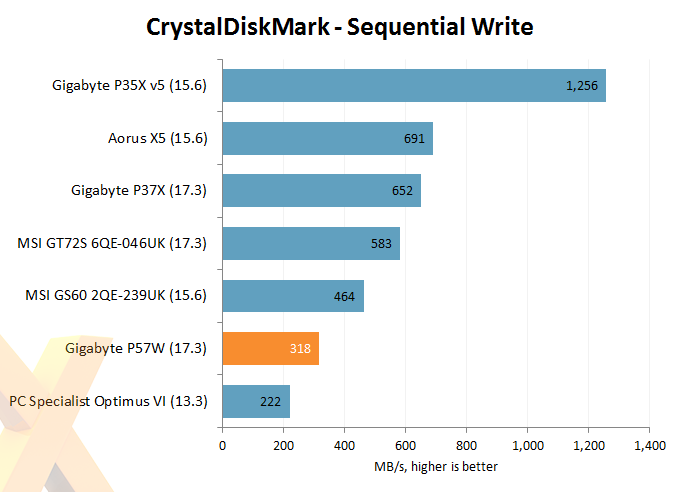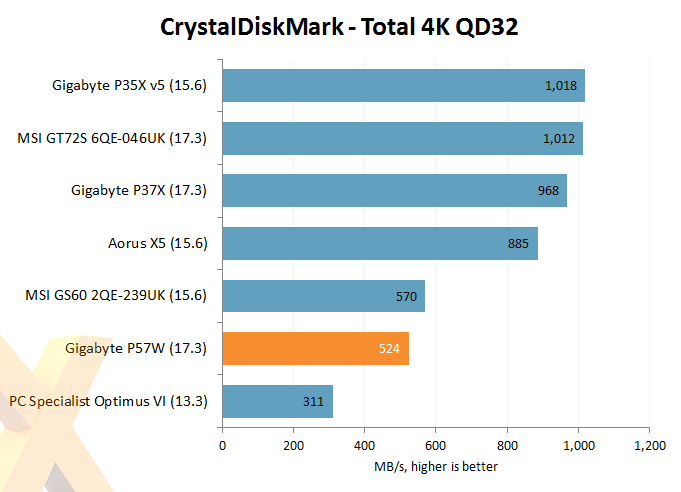 Concessions do have to be made in order to keep costs in check. Whereas costlier laptops are touting NVMe drives or a couple of SSDs in RAID, the P57W is making do with just a single 256GB LiteOn L8T-256L9G M.2 SSD. The fact that we're complaining about a 256GB flash drive delivering read and write speeds of 460MB/s and 318MB/s, respectively, is a sign of how far storage devices have come.
Benchmarks: System and Gaming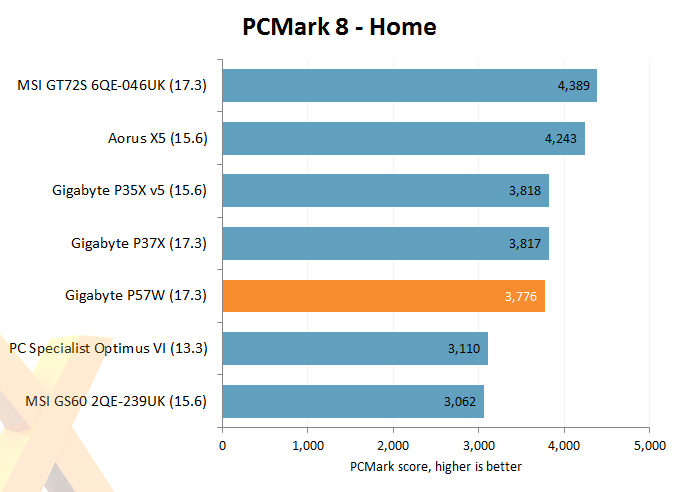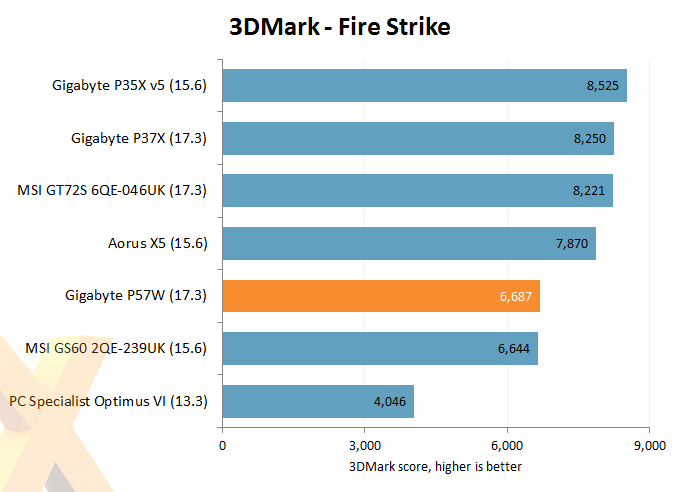 For performance purists, the other concession is the GeForce GTX 970M, which is of course a step-down from the GTX 980M that's readily available in pricier units.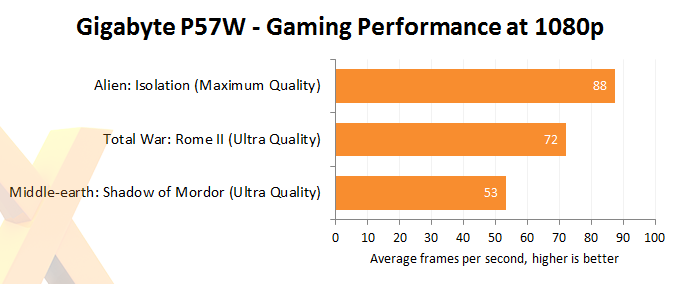 A cause for concern? Not quite, as the GPU is intrinsically linked to the display, and the GTX 970M is ideally suited to the P57W's 1080p panel. At the native resolution, the graphics chip has little trouble doling out silky-smooth framerates in excess of 60 frames per second.
Benchmarks: Temperature and Noise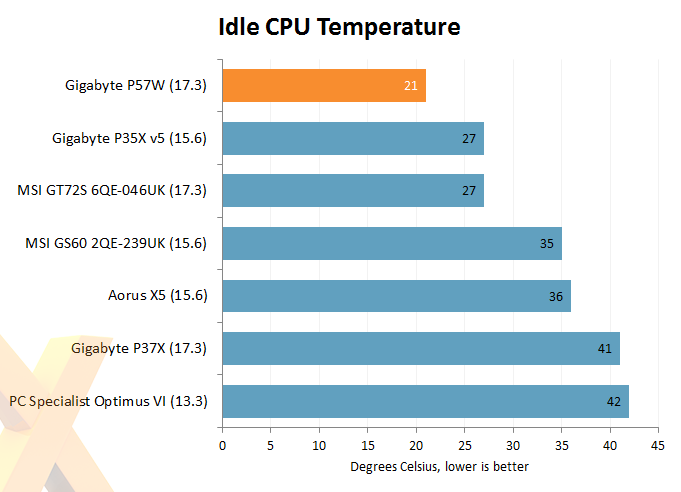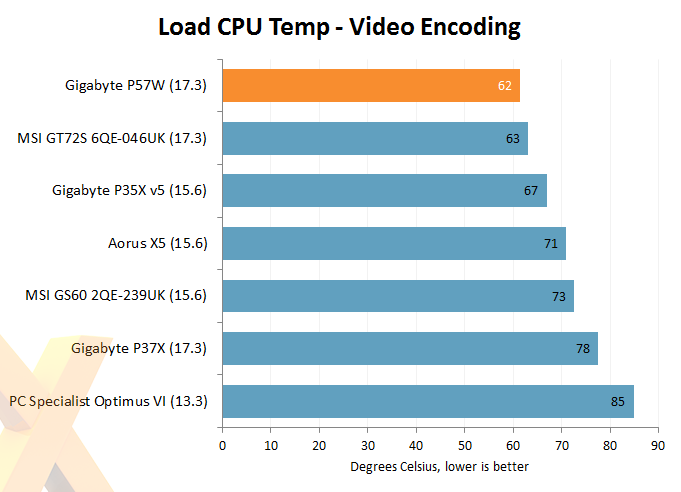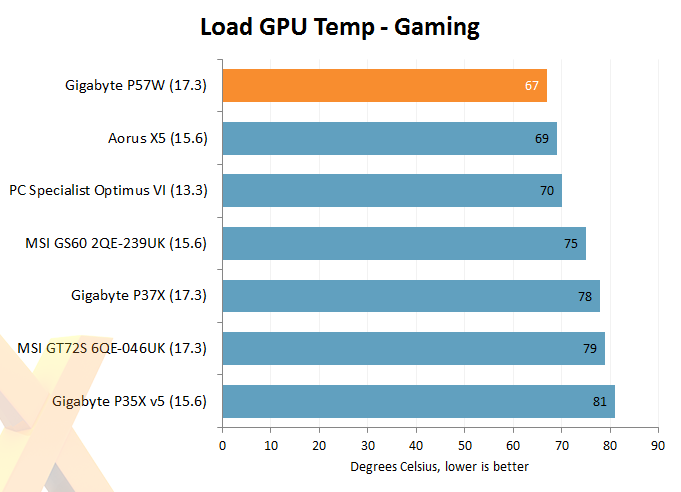 We mentioned the added layer of refinement available to today's gaming laptops, and here's some proof. The CPU's practically cold when idle, it only just gets past 60ºC when it's running absolutely flat out across all cores, and the GPU peaked at 67ºC when gaming.
The P57W still gets warm when stressed, but temperatures are comfortable and the two built-in fans aren't overzealous. They can always be heard, but they keep reasonably quiet at low load and only become noisy when the going gets tough.
Benchmarks: Power Draw and Battery Life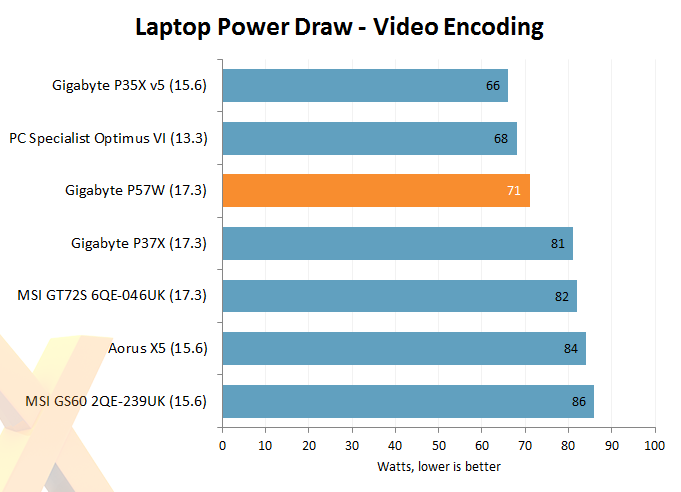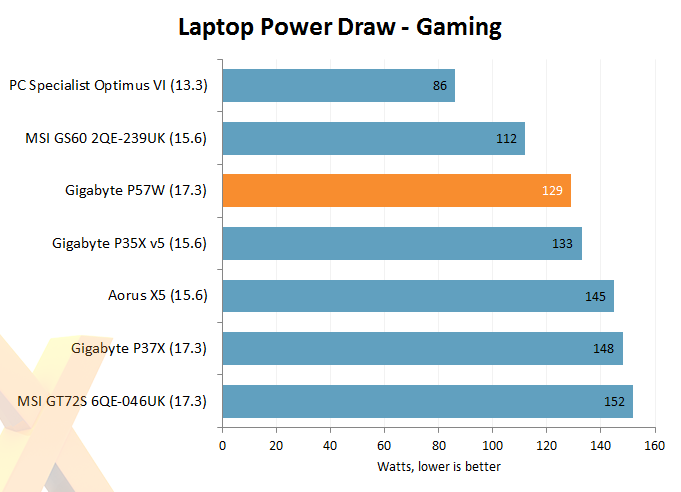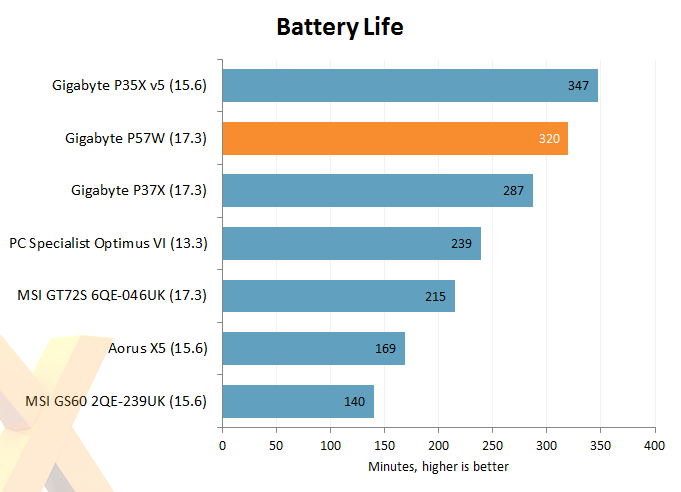 Gaming laptops have terrible battery life, right? Well, no, not always. Gigabyte's P57W managed to keep looping a high-definition movie clip for almost five-and-a-half hours with screen brightness at 50 per cent and all wireless radios disabled.
A solid return for a 17.3in machine, but is it enough? Gigabyte will argue that gamers prioritise performance over battery life, and though that might be true, we're of the opinion that while five hours is considered decent for a gaming laptop, all premium laptops should now be aiming to deliver more in terms of longevity.
Conclusion
Gigabyte's P57W offers a good amount of punch in a sleek, understated chassis that's reasonably slim and able to keep cool without intolerable levels of noise.
It might be time to reconsider a gaming laptop, as the latest crop manage to dispel the common belief that such machines are loud, bulky affairs that offer a level of refinement akin to Donald Trump.
Proving that gaming laptops have mellowed, Gigabyte's P57W offers a good amount of punch in a sleek, understated chassis that's reasonably slim and able to keep cool without intolerable levels of noise.
It's a refined package, yet don't let the minimalist appearance fool you. Beneath the hood a Core i7 processor, 16GB of DDR4 memory and a dedicated GeForce GTX 970M GPU come together to deliver a high level of performance that's well suited to a wide range of usage scenarios ranging from productivity to gaming. In either mode, the 1080p IPS panel delivers anti-reflective visuals from just about any angle, the keyboard and trackpad feel roomy and inviting, and there are enough connectivity options for the P57W to serve as an effective desktop replacement.
There's plenty to like, yet there's room for improvement, too. Gigabyte's choice of SSD isn't the quickest by today's standards, the integrated battery isn't likely to get you through a full day's work, and we'd like to see an option for a higher-resolution screen. Willing to accept such compromises? Then the P57W is worthy of consideration as both a portable gaming rig and a capable workhorse.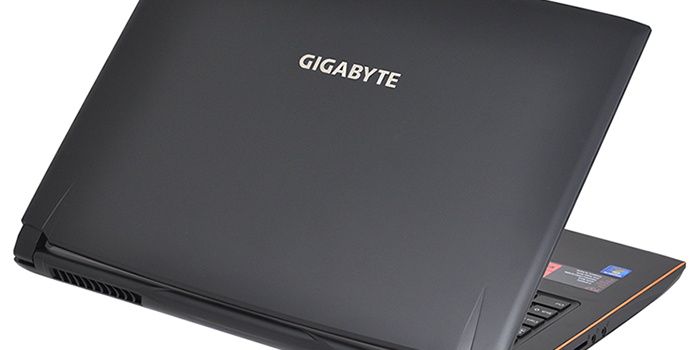 The Good

The Bad

Sleek for a 17.3in gaming laptop
Quad-core Intel Skylake CPU
Capable GTX 970M graphics
Keeps suitably cool and quiet
Ample connectivity options

No ultra-high-res display option
SSD is basic by today's standards
Pre-loaded software could be tidier